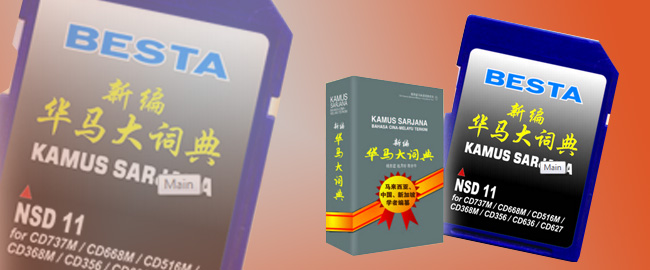 BESTA Kamus Sarjana Dictionary Card
The most powerful and largest Chinese-Malay Bilingual Dictionary Card
Largest: With more than 9,000 Chinese words, 70,000 expressions, 70,000 derived phrases, 150,000 entries that can be checked.
Highest number of entries: Large numbers of idioms, phrases, proverbs, short sentences, model sentences etc, with words and contextual meanings translated plus full explanations in Malay.
Most up-to-date: Contains latest words, terms, common expressions etc; large number of words included, with new contents and accurate explanations.
Latest: Includes synonyms, words with multiple pronunciations and meanings; with standard Hanyu pinyin and standard Malay phonetic notations.
A remarkable production after 11 years of hard work by well-known Malay language scholar and dictionary editor Dr Yang Quee Yee as well as Nanyang University alumnae Professor Zhao Yue Zhen and Madam Chan Maw Who.