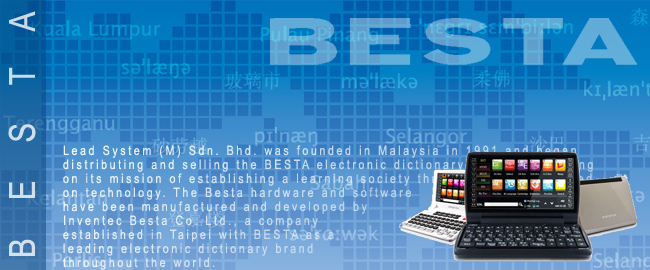 About BESTA Electronic Dictionary
Lead System (M) Sdn. Bhd. was founded in Malaysia in 1991 and began distributing and selling the BESTA electronic dictionary in 1992, focusing on its mission of establishing a learning society through education based on technology. The Besta hardware and software have been manufactured and developed by Inventec Besta Co. Ltd., a company established in Taipei with BESTA as a leading electronic dictionary brand throughout the world.
For the past 11 years, the company has promoted the spirit of "LEAD-ing" by creating value-added R&D in technology innovation, learning and customer focus. The technological innovation in the BESTA electronic dictionary products includes an expansion of functions to accommodate a new era of abundant resources and databases.
Under Lead System Group of companies, we are led by four subsidiaries i.e. Lead System (M) Sdn. Bhd., Amiux (M) Sdn. Bhd., PDA Junction (M) Sdn. Bhd. and EDU Corner (M) Sdn. Bhd. to lead the market and achieve success with synergies.
Amiux (M) Sdn. Bhd., the content provider, focuses on developing and fulfilling local Malaysian users' needs. The R&D department researches, develops and selects databases of high standard. This is in addition to building contents based on the education curriculum system of Malaysia.
PDA Junction (M) Sdn. Bhd. is the master dealer of BESTA electronic dictionay in Malaysia with its wide range of products and network of retail outlets. In the light of the stiff market competition, PDA Junction (M) Sdn. Bhd. has shifted its focus from "quantitative competition" to "qualitative competition," analysing the needs of its customers, in a bid to provide more diversified services that will enhance customer satisfaction in this fast changing digital technology era.
EDU Corner (M) Sdn. Bhd. as master dealer of BESTA products in schools throughout Malaysia, the company is responsible for marketing and distributing BESTA products. EDU Corner (M) Sdn. Bhd. is dedicated in its commitment to contribute significantly towards nation-building by creating a knowledge-based society and to educate students of today, to be leaders of tomorrow. As part of its obligation as a responsible corporate citizen to fulfil its social responsibility, the company has organised and sponsored numerous seminars for parents and teachers, as well as learning seminars for students in schools nationwide.
Today, the company takes pride in its brand, BESTA. The product is benchmarked as the most successful and innovative electronic dictionary in the Malaysian market. This trusted brand was awarded Malaysia Superbrands since 2005. BESTA was chosen as the Number 1 brand according to an AC Nielsen report in 2008.
The strong BESTA branding is supported and strengthened by a wide and well-established network of over 300 authorised dealers and outlets throughout Malaysia.