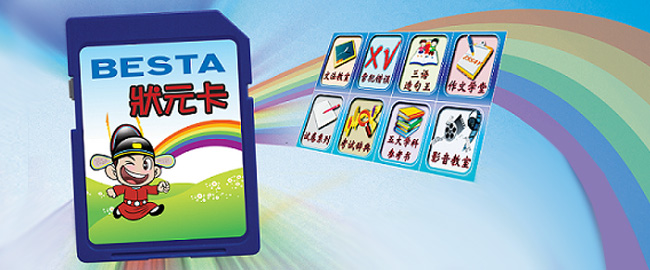 BESTA Learning Card - Eight Learning Areas:
1) Grammar Classroom
Include grammar learning features of Malay, English, Chinese, Japanese, and Korean.
Also include information of mathematics, science and medical science.
Introduce grammar patterns with simple and practical explanations, as well as concise samples and additional learning exercises.
Provide real human voice pronunciation with Chinese notes to let you learn grammar easily.
Understand and master the basic grammar structure of the three languages effectively with variety of learning methods.
Provide attracted animation with visual effects and real human voice explanations to promote learning interest.
2) Common Mistakes
Understand common grammar mistakes of the three languages to prevent recurrence.
Correct common misspelled words to build a solid language foundation.
Speak in grammatically correct sentences to learn proper and standard grammar.
3) Making Sentences
Exclusively contain more than 2000 practical sample sentences, help you to master commonly used sentences.
Provide more than three sample sentences for every vocabulary, allow you to make fluent sentences quickly.
Build a solid writing foundation and enhance you sentence making skills.
4) Writing Lesson
Include essays in three languages which are based on UPSR standard format and provide a variety of sample essays for reference.
Provide details of the essay format and guide you to master the writing skills efficiently.
Provide "Daily Learning Tips", one tip a day, 365 tips a year to help candidates for preparation.
Build your writing skills gradually through additional interesting story series, encourage you interest and build confidence in writing, and to discover your writing potential.
Provide step-by step guide and answer tips to help you complete essay quickly, improve your writing skills and to write a good essay easily.
Provide business letter samples and email letter samples to improve your business English communication skills.
5) Examination paper Series
Provide 113 sets of the latest high quality mock examination papers which are authorized by Pelangi Pulisher to enhance ability of the candidates.
Allow you access the mock examination anytime to practice before the examination and strengthen confidence to overcome challenges.
Provide answers and analysis to let you understand all the questions, answer accurately and quickly.
Provide "Key Summary" for you to review the main points of the subject quickly and fully prepared before the examination, score high in the examination easily.
6) Examination Dictionary
Provide exclusively developed examination dictionary for candidates to search the information, related topics and similar topics easily by entering the keyword.
Learning while searching the heavy and repeated contents of the books to achieve fast-learning, and save your valuable time.
Get your search result immediately by using keyword search, also included analysis of the past year examination papers and reference range.
7) Reference books of five subjects:
Include all major teaching subjects in the schools, digitized and presented the black and white contents colourfully.
Include syllabus, exercises, answer analysis, mock examination paper, and writing lesson. Now you can put aside the heavy reference books and school bag to read the information conveniently.
In addition, you can get the related exercises and knowledge immediately through exclusively search function without overwhelmed by the large amount content.
8) Video Classroom
After mastering a series of learning, we can also practice speaking through interactive video and audio lessons.
Learn conversational skills through a series of daily dialogue film in Chinese and English.
Include <Three Characters Classic>, < Thousand Characters Classic > and moral education, improve moral values through the film of < The Rulesof Ethical Behaviours > ( Di Zi Gui).
Learn easily through interesting interactive multimedia learning platform that combined with educational and knowledge.
Additional Malay Tips
Contents are divided into three UPSR categories, Tatabahasa / Pemahaman / Penulisan, practical, easy to learn and effective.
Sound animated teaching, bi-directional explanations, answer techniques, interesting learning game.
Provide help for vocabularies, key points of the questions, answer tips, exercise analysis.